An orchard specializes in pawpaws
The pawpaw, the largest edible fruit native to the United States, is gaining a new interest among chefs and the local food movement.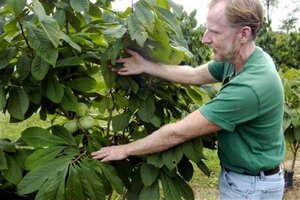 Ken Koons/Carroll County Times/AP
The air at Deep Run Pawpaw Orchard carries the faint aroma of banana and mango. Inside the walk-in cooler where the harvested pawpaws are stored, the scent is much stronger, sweeter — so powerful that you can almost taste their tropical flavor, reminiscent of banana, mango, pineapple, and custard.
Hidden in the hills of northern Westminster, Jim and Donna Davis have 5 acres with about 1,000 pawpaw trees, making them one of the largest, if not the largest, pawpaw orchard in the country.
Many people may have never heard of a pawpaw, but it is the largest edible fruit native to the United States, Mr. Davis says. It was cultivated by American Indians, nourished early settlers and passed down through generations of some families, he says, but it is gaining a new interest as well among chefs and the local food movement.
"People either like them or they don't," Ms. Davis says. "But the people who like them are passionate about them, I suppose because it takes so much to grow them, and they have that delicate flavor. It's kind of a cult thing."
Jim purchased the farm in 1996, and was introduced to the idea of a pawpaw orchard by former county extension agent Tom Ford. Mr. Ford put him in touch with Neal Peterson, a plant geneticist enthralled with pawpaws who was looking for different sites to do some experimental plantings and data collection using multiple pawpaw varieties.
"I've always been interested in plants and horticulture," Jim says, so he was excited to give them a try. Mr. Peterson was able to offer some guidance, but much about the fertilizing, pruning, and irrigation needs of the plant are still being discovered, he notes.
"We're kind of like pioneers in this," Jim says. "The whole process is in its infancy."
---