In the Southwest, mesquite pods are a tasty treat
Mesquite pods, once a staple of native Americans, are now being added to smoothies, breads, and pancakes.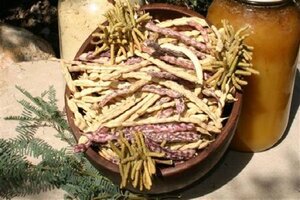 Desert Harvesters/Brad Lancaster/AP
Each summer, Dana Helfer of Tucson, Ariz., collects the long, yellowish string-bean-like pods produced by mesquite trees on her property and around her neighborhood. And each fall, she has the sweet-tasting pods ground into flour."We use it to make pancakes and waffles, and I'll put it in banana bread, zucchini bread, and smoothies," she says.
Ms. Helfer is a volunteer for Desert Harvesters, a nonprofit group that promotes the use of mesquite pods. They've made countless converts at mesquite pancake breakfasts and milling events each autumn.
"We get a lot of people bringing bags of pods to be milled; some have been doing it for years and others are first-timers," says Helfer.
A 5-gallon bucket of pods yields about 1 pound of flour.
Mesquite has an earthy sweetness, often described as slightly fruity with a hint of caramel. Invariably, Helfer says, newcomers are stunned that they can use it for cooking, and lament that they've been sweeping up the pods and throwing them away. "Most people see the pods as trash," she says.
Native Americans knew better: Mesquite pods were a staple for tribes in southern California, the Great Basin, and the Southwest. Stone pestles were used to grind the seedpods into a coarse meal. The protein-rich flour was used to make small cakes that were eaten dry. It also could be made into mush or mixed with water for a sweet drink.
There are six species of mesquite trees native to the United States, from southern California to Texas and from the Mexican border as far north as Oklahoma. The most common varieties include velvet mesquite and honey mesquite, which can reach heights up to 30 feet, and the more shrublike screw bean mesquite.
---