50 million footprints play havoc with the grass on the Washington Mall
The grass that covers the Washington Mall, the most visited national park in the United States, is in bad shape. The footprints of 25 million visitors are part of the reason why.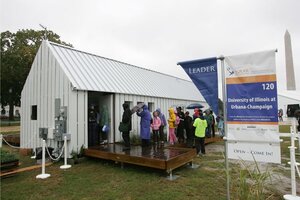 NEWSCOM
Fall brings the Washington Mall to its annual low point. This is when many of the turf panels have been beaten back by so many feet over the previous six months that calling it turf is an act of generosity. Some of the rectangles of lawn are no more than a blend of bare soil and weeds. "Soil" might also be a misnomer.
"The maximum (soil) density we have measured was about equivalent to cinder block," said Robert DeFeo, a horticulturist with the Mall's stewards, the National Park Service.
Each fall, the pattern of rejuvenation repeats itself in an exercise that calls to mind Samuel Johnson's view of a second marriage: the triumph of hope over experience.
The landscape crews might add a top dressing of compost, rough up the ground with an aerating machine, and then sow the seed in slits.
By April, when the new grass looks green and perky, the fences come down, and then it is flattened by ballplayers, tourists, protesters, joggers, and all the rest.
This is America's most beloved civic space, and it is meant to be used to commemorate, celebrate, and recreate, but as increasing numbers do a number on the greensward, the suffering is evident, and the solution to it less so.
"If you had 25 million people walking through your front yard — that's 50 million footprints, assuming everybody has two legs — it's reasonable to expect it would look the same way," said Bill Line, a Park Service spokesman.
It's not just feet, though. It's tents and other structures for special events. (Twenty houses, plus tents and trailers, were placed on the Mall in October for the Solar Decathlon.) One year, during a military display, there were tanks.
---