Vegetables popular for fall outdoor decorating
Vegetables such as peppers, lettuce, beets, eggplant, and sweet potatoes can all be used for outdoor decoration.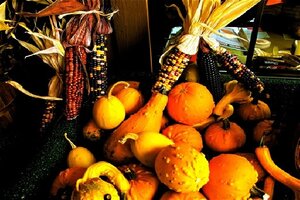 Dean Fosdick/Associated Press
Fall is a busy time for decorating, second only to Christmas, and the period when vegetables are valued more for their beauty than their flavor.
Back when America was largely rural, bringing in the harvest was cause for celebration. Corn stalks were bundled into "fodder shocks" — stalks, ears, tassels, and all — and stacked upright around light poles and near entries, and fed to livestock.
Then came Halloween pumpkins, and Thanksgiving with its fresh fruit and colorful gourds gracing dining room tables.
"We don't just decorate for Halloween anymore but for the entire fall season," says Amanda Sears, an extension agent with the University of Kentucky's Department of Horticulture.
Many farmers and roadside retailers make financial hay selling multicolored ears of Indian corn, pumpkins, gourds, corn stalks, and straw bales for home decorating.
"We have some commercial growers in Nebraska who started with gourds and have expanded into Indian corn and little straw bales — the whole package," says Dale Lindgren, a plant-breeding specialist with the University of Nebraska-Lincoln. Such "ornamentals" are sold to big-box stores as well as to farmers' markets.
---