Sculptor puts new life into dead trees and sweet potatoes
In Maryland, a tree sculptor teaches children to carve sweet potatoes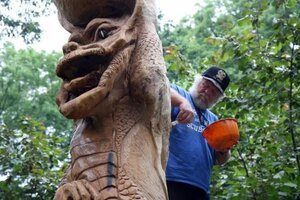 Photo for The Washington Post by Mary Lou Foy.
"I brought two sweet potatoes," says 8-year-old Catrina Calingaert.
She stands with about a dozen other kids holding sweet potatoes. The youngsters from Silver Spring and Takoma Park in Maryland huddle around a guy with a beard who looks a little like Santa Claus. He sits low in a chair in front of a tree stump carved into the figure of a big wooden momma bear and her cub.
He's Jim Calder, master woodcarver, the artist who carved the bear after the tree died. The Carter family of Takoma Park decided that instead of chopping the tree up for firewood, they would ask Mr. Calder to carve the bear family to mark the arrival of their first child, Ben.
Every time Mr. Calder carves a wooden sculpture from a tree stump, he invites local kids to workshops to learn woodcarving. Thousands of kids and their parents, and teachers all across America have joined him over the years.
"Only we use sweet potatoes, not the tree stump," says Calder, a Baltimore resident who celebrated his 61st birthday recently. "They're easy to carve right now, but when sweet potatoes dry out, they get hard like wood in three days, and after a year or two, they start to get hard as a rock and can last for 300 years."
---
Follow Stories Like This
Get the Monitor stories you care about delivered to your inbox.