Coming soon: a Christmas tree that won't shed its needles
Not everyone agrees on what makes a perfect Christmas tree, but one that doesn't shed its needles would be high on most lists.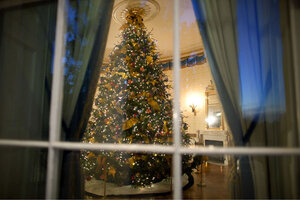 Chuck Kennedy / White House/Sipa Press/NEWSCOM
After chasing the perfect Christmas tree for three decades, Gary Chastagner could be getting close.
The scientist some call "Mr. Christmas Tree" has already conquered conifer diseases, developed guidelines to keep cut trees fresh, and helped introduce new species to the American market.
Now Chastagner is using old-fashioned genetics to create a super-race of conifers immune to consumers' No. 1 complaint about Christmas trees: needles that scatter like dandruff.
If the Washington State University professor succeeds, it will be a boon for housekeepers and a breakthrough for an industry disheartened by the popularity of fake trees.
"If we get the needle thing solved, that will be a huge development in our lifetime," said Oregon tree farmer Jim Heater, past president of the National Christmas Tree Association and one of Chastagner's biggest fans.
Heater was the first grower to put Chastagner's approach into action, testing trees used as breeding stock. The tests allowed Heater to weed out trees that drop needles easily, and preserve those that hold tight to their foliage through bad weather and bad treatment. Seed from the needle champs is giving rise to a tough new generation of fir trees that will hit the market in a few years.
The work is rooted at WSU's Puyallup Research and Extension Center, where Chastagner grows 15 acres of conifers from around the world. In roomy labs, he can experiment on hundreds of whole trees and thousands of branches. It's not high-tech compared to particle physics or biomedicine, but the Christmas tree industry doesn't pull in big research bucks.
---