Great garden books for winter reading
Winter's a great time to catch up on your reading. Here are nine recommendation's of great garden books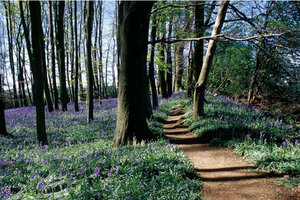 NEWSCOM
Landscape and gardening books are handy sources of inspiration that make perfect holiday gifts for the gardener on your list. Here is a selection of the best works from this year's bumper crop of books:
"American Horticultural Society New Encyclopedia of Gardening Techniques: The Indispensable Illustrated Practical Guide" edited by David J. Ellis, Fiona Gilsenan, Rita Pelczar and Graham Rice (Mitchell Beazley, 2009). This is a must have for gardeners and landscape designers. This book presents an organized approach to property care, including basic horticultural guidelines, wildlife, ornamentals, vegetables, herbs, fruit, lawns, aquatics and containers. It features step-by-step color illustrations of landscaping tasks and 200 full-color photographs. Hardcover, 480 pages. $45.
"The Bizarre and Incredible World of Plants" by Wolfgang Stuppy, Rob Kessler and Madeline Harley (Firefly Books, 2009). The authors leverage the power of microscopes to enlarge tiny bits of plant material to fill entire pages in this photo anthology. Seen in a larger than life fashion, pollens and seeds become complete life forms with unique purposes. The photography and text convey a wealth of information about the organisms responsible for our plant world. Hardcover, 144 pages. $29.95
---
Follow Stories Like This
Get the Monitor stories you care about delivered to your inbox.