Conservationists tell commercial bumblebees to buzz off
Commercially produced bumblebees may be detrimental to wild bumblebees.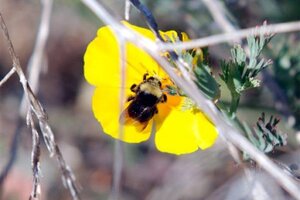 Jeff Barnard/AP
Conservation groups and scientists want federal agricultural authorities to start regulating shipments of commercially domesticated bumblebees — used to pollinate crops — to protect wild bumblebees from diseases threatening their survival.
The groups says that four species of bumblebees once common in the United States have seen drastic declines — and the evidence points to diseases spreading out of greenhouses that use domesticated bumblebees.
"This is the tip of the iceberg," says Scott Hoffman Black, executive director of the Xerces Society, an insect conservation group based in Portland. "Bumblebees need to be regulated or we may see other diseases spread to bumblebees and potentially other bees."
Besides pollinating wild plants, bumblebees are responsible for pollinating about 15 percent of all the crops grown in the U.S., worth $3 billion. Demand has been growing as supplies of honeybees decline, especially for hothouse crops such as tomatoes, peppers and strawberries, and field crops such as blueberries, cranberries, raspberries, squash and watermelon.
Federal regulation is needed because while some states, like Oregon, prohibit importation of bumblebees, others, such as Washington and California, allow it, Mr. Black says.
---