This yard just naturally attracts wildlife
The National Wildlife Federation certifies qualified yards – and even balcony gardens – as wildlife habitats to encourage people to maintain natural landscapes.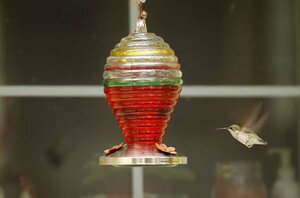 NEWSCOM
A residential backyard might seem a strange place to cultivate a wildlife refuge.
But creating a natural oasis behind their Jefferson home has afforded David and Cindy Johnson a glimpse into a world they might otherwise have overlooked.
A variety of butterflies, birds, rabbits and other critters now frequent the Johnsons' backyard to drink nectar from flowers, peck up seeds or nibble on a variety of plant species that grace their small patch of earth.
Last month, the National Wildlife Federation recognized the Johnsons' backyard as an official Certified Wildlife Habitat.
Founded in 1973, the national program encourages people to maintain natural landscapes instead of properties dominated by expansive lawns and ornamental plant species. Its popularity has only recently grown, however, according to Roxanne Paul, a NWF spokeswoman in Reston, Va.
Three quarters of the more than 126,000 certifications that have been awarded nationwide occurred in the last five years.
"The program's really taken off," she said.
The Johnsons' backyard is the 126,393rd addition to the certified wildlife habitat family. Most certified properties are residential backyards, but the NWF also has 3,500 schools, more than 3,000 farms, 1,000 businesses and a number of churches that have participated, according to Paul.
In Georgia, there are 5,209 certified habitats, and Jackson County is home to 23 of these properties.
---