Urban gardeners versus zoning laws
Urban green thumbs who want to raise livestock or grow vegetables for sale are being thwarted by unhappy neighbors and zoning laws.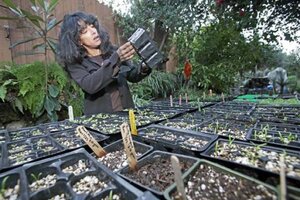 Reed Saxon/AP
Tara Kolla fancied herself a green thumb-turned-green businesswoman when she planted an organic flower plot in her yard and sold poppies, sweet peas, and zinnias at the local farmers' market. For her neighbors, it was an eyesore.
Where Ms. Kolla saw her efforts as creating a lush sanctuary, her neighbors witnessed dusty pots, steaming compost, flies, and a funky aroma on their tiny cul-de-sac in Los Angeles. They complained to zoning officials — and prevailed.
Kolla and other urban farmers are fighting back by challenging City Halls across the country to rewrite ordinances that govern residential gardens. They believe that feeding their fellow urbanites homegrown tomatoes, fresh eggs, and sweet corn will change the world one backyard at a time.
Seattle has loosened its rules for backyard goats, New York City's health department is taking steps to legalize beekeeping, and Detroit is looking into regulating compost and greenhouses.
In Detroit, where zoning laws ban growing crops and raising livestock for profit, city planner Kathryn Lynch Underwood is part of a work group rewriting the regulations and defining what kinds of urban farms might need more oversight.
"The city has not been treating it as an illegal use or a nuisance because it has been a good thing," Ms. Underwood says.
She is hopeful that urban agriculture and the city's nearly 1,000 community gardens will create good jobs in a city that desperately needs them and put vacant lots to use in blighted neighborhoods.
Kolla, meanwhile, found a loophole allowing her to grow vegetables while lobbying for the right to set up a city farm at her home just four miles from the urban jungle of downtown Los Angeles.
---