Farm to School program has third-graders scrambling to the salad bar
A national initiative supports schools' efforts to serve locally grown produce and educate students in sustainable ways of eating.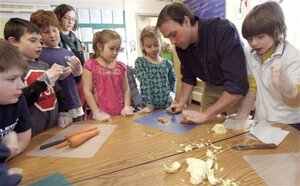 Toby Talbot/AP
The third- and fourth-graders at Sharon Elementary know where the veggies in their soup come from because they've visited the farms. They know the nutritional value of the carrots, onions, and cabbage because they've studied them in class, and they know how they're grown because they've nurtured them in raised beds out back.
The 105-student school is part of the National Farm to School Network, aimed at getting healthier meals into school cafeterias, teaching kids about agriculture and nutrition and supporting local farmers.
About 40 states have farm-to-school programs, but Vermont is a leader in incorporating all three missions into its programs.
"Vermont has really taken it on in quite the most holistic way and not just in a couple of school districts but statewide," says Anupama Joshi, director of the Farm to School program, based at the Center for Food and Justice at Occidental College in Los Angeles.
Vermont may be a step ahead of other states because a nonprofit partnership called Vermont FEED had already been working to get local foods into schools.
The state also has backed the farm-to-school effort with funding to help schools buy equipment to chop or process the local food and buy meat from a local farmer.
What started as a handful of pilot programs has grown into 45 Vermont schools getting grants and about 60 with farm-to-school activities. The funding is expected to dry up next year with budget cuts.
---