It wouldn't be spring in Texas without colorful wildflowers
The spring forecast for Texas: A 100 percent chance of bluebonnets and other colorful wildflowers.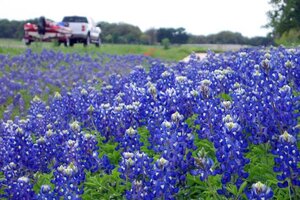 Michael Martinez/Chicago Tribune/NEWSCOM
Texas should have a colorful spring, with recent rains bringing an abundance of wildflowers and blooms already popping up, experts say.
By the end of March, Texas should be awash in the reds, yellows, whites, and blues of wildflowers, with the season peaking in mid-April, says Damon Waitt, senior botanist at the Lady Bird Johnson Wildflower Center at The University of Texas at Austin.
With rains throughout the fall and winter bringing an end to drought conditions that have persisted in the state since late 2007, Mr. Waitt expects exceptional early and late spring wildflowers in many parts of the state.
"That really favors our Texas wildflowers, especially our early spring bloomers," says Waitt, who added that flowers making an early appearance include Indian paintbrush, Drummond phlox and Texas' state flower: the bluebonnet.
While different species thrive in different conditions, the past two years overall have been less-than-spectacular for wildflowers in Texas due to the drought, says Joe Marcus, collections manager at the Lady Bird Johnson Wildflower Center.
"They were all there," he says, "just not to the extent or showiness that we're used to seeing."
But experts say this spring should be impressive.
"My forecast is there's a 100 percent chance of bluebonnets," Waitt says.
---