The rocky shores of Alcatraz bloom once again
Alcatraz is a forbidding landscape, but its rocky gardens – once tended by prisoners and families of the guards – are being restored, and bloom once again.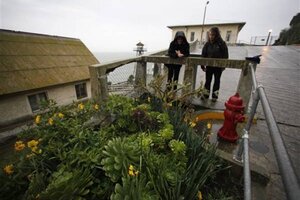 Eric Risberg/AP
Scoured by wind and steeped in criminal history, Alcatraz has a forbidding face. But look a little closer and you see a gentler side to this old fortress, the gleam of flowers blooming brightly on the island's rocky slopes.
These are the gardens of Alcatraz, once tended by prisoners and the families of the guards who watched them, now being revived by a band of conservationist sleuths who rely on old photos and long memories to re-create an almost forgotten piece of horticultural history.
"It really is a jigsaw puzzle — it takes some detective work," says Shelagh Fritz, project manager of the Gardens of Alcatraz. "Our goal is to turn a place of neglect and harshness into something that's beautiful and worth taking care of."
Memories of what it was like
Kathe Poteet remembers how the gardens used to look. Her father, Al Kaeppel, was business administrator on the island in the 1950s, and she lived on the island until she was 7.
"It was a great place to grow up," says Ms. Poteet, now a teacher in central California. She remembers playing on the parade grounds, picking berries in the fall, and chewing on sour grass, the tasty weed known as oxalis.
---