Interest in organic lawn care is growing
Growing numbers of homeowners are turning to organic lawn care.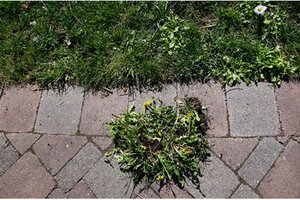 Elaine Thompson/AP
Lush green.
That's the way Jane Witmer describes the lawn around her Seattle house. But if you look closely, there's some moss and some clover. "Wildflowers are beginning to bloom pink in the grass," she said.
The small imperfections are the price she pays for keeping her lawn organic.
"It's better for my health, and the health of my pets and my family," Ms. Witmer said. "It's better for the health of the bugs and the birds in the yard."
Increasing numbers of homeowners are eschewing lawn chemicals, citing environmental and health concerns. A 2008 survey by the National Gardening Association indicated that about 12 million households were using only natural products on lawns and gardens, up from about 5 million in 2004.
Bruce Butterfield, market research director for the association, said the number of organic gardeners is likely to increase, to a point. "It's not going to totally displace use of conventional fertilizers for lawn care," he said.
"Part of it is the whole image of the way people see their lawns," he said. They're not going to get the country club or golf course look if they use only natural fertilizers.
At Scotts Miracle-Gro Co., organic products account for about 5 percent of overall sales of consumer lawn and garden products, according to Lance Latham, director of public affairs.
"In general, consumers will find the cost of organic fertilizers to be a little more than the price of conventional products," he said.
Going organic requires a bit of tolerance for weeds
People who choose to go organic might have to lower their expectations a bit, and be patient, the experts say.
---