A closer look at the new Eyeconic roses
The new Eyeconic roses have an interesting reddish blotch on each flower.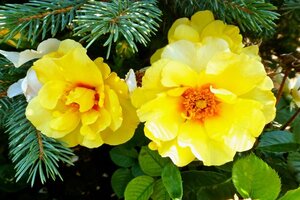 Courtesy of Lynn Hunt
There is no way to predict when a hybridizing bug may bite its victims.
Eight-year-old schoolboy David Austin wished to create a new flower like the world had never seen.
Twenty-something Bill Radler hoped to breed a rose that didn't require constant pampering. His Knock Out filled the bill.
Jim Sproul enjoyed breeding guppies in his early teens; then, as an adult, his hybridizing interests turned to roses.
Over the past15 years he has been working to create a line of roses bred with Hulthemias, plants considered more of a weed than an ornamental in the desert regions of Iran and Afghanistan.
Although Hulthemias (Rosa persica) are described as ugly bushes with thorny, rambling branches, the flowers have a distinctive red blotch in the center that has fascinated hybridizers for decades.
Much work to create a blotch
They are not true roses, but breeders hoped they could cross the once-blooming desert plant with the modern Queen of Flowers to produce new varieties with the fascinating blotch.
The pioneering efforts of breeders around the world including Peter James, Chris Warner, Jack Harkness, and Ralph Moore paved the way for Jim Sproul's breakthrough work.
The Eyeconic roses are Dr. Sproul's reward after many years of trial and error, success, and failure, and many hundreds of crosses.
His first big introduction was Eyeconic Lemonade, a shrub with sunny yellow, gently ruffled blooms that have a magenta-red blotch at the base. Lemonade is a heavy bloomer with slightly scented, non-fading flowers.
Pink Lemonade soon followed – a pretty light pink with a frilly bloom and, of course, the blotch. Both varieties grow to about 3 feet tall and boast dark green glossy foliage.
---