Slow flower farming
When a Dutch family immigrated to North Carolina just before World War II, they started a bulb and cut flower farm, Terra Ceia, that still endures today, practicing the joys of slow flower growing.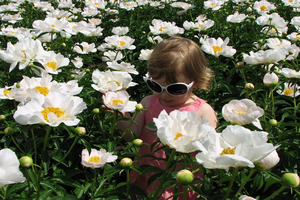 Courtesy of Terra Ciera Farms
It was bound to happen. We have been living in a fast world for way too long -- fast food, fast friends, fast culture with 10 countries in 10 days. Thankfully, our fast pace is being replaced with what's now referred to as the slow movement -- slow food, slow travel, slow gardening, and slow flowers.
With our digital world spinning faster and faster, we can finally slow down in areas where it matters most -- our community and lifestyle.
Terra Ceia Farms has been leading the slow flower and slow gardening movements for decades, but it was just thought of as a family farm.
Located in the eastern part of my state, in Pantego, N.C., Terra Ceia Farms is part of a small-town community, growing bulbs and flowers as it has been done for generations.
The Dutch arrive
In the 1910s, 35 Dutch families moved to Beaufort and Hyde Counties because of economic hardship in Europe from the time leading up to and between the First and Second World Wars. America provided them new opportunities.
This begs the question, doesn't it? Why did they end up in eastern North Carolina?
The most plausible explanation, according to Terra Ceia co-owner Carl Van Staalduinen, who manages the mail-order side of the business, is, "They learned of the climate and soil from Dutch engineers [and technology workers] who were employed to drain Lake Mattamuskeet.
The immigrants were mostly farmers; flower growers, dairy, and grain. The land was cheap (and heavily marketed), and for the flower grower, the climate was right for Easter tulip flower production.
"Most of them had either family or community connections to the same areas of Holland," he adds.
From cut flowers to mail order
---