Snowdrops usher in spring
Pretty white snowdrops welcome spring in cooler climates.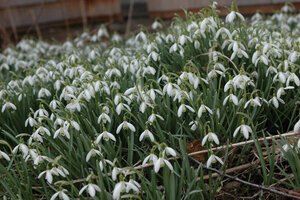 Courtesy of Karan Davis Cutler
Snowdrops begin blooming about the time of the vernal equinox in Vermont, where I live, perfectly timed with spring. All Galanthus species — there are about 20 — are botanical immigrants, but few places are more congenial to growing them than is New England.
The galanthus in my garden are G. nivalis, common snowdrops. Don't let "common" put you off: Snowdrops' other country names — milk flower, fair-maid-of-February, Mary's tapers, Candlemas bell — better point to the loveliness of these little blooms.
Each faintly scented flower hangs from a five-inch leafless scape like a delicate white bell marked with green.
There are scores of cultivars, including 'Flora Pleno', the best known double-flowered snowdrop, and 'White Dreams' with its white-striped leaves. There's also the eye-popping and pricey Galanthus woronowii 'Elizabeth Harrison', which has yellow rather than green markings. (The seed company Thompson & Morgan bought a single bulb for about $1,100 last year.)
Flowers for weeks
'Elizabeth Harrison' isn't likely to become part of my garden, but I do like giant snowdrops (G. elwesii), which are a bigger version of their common cousin. If you chose strategically, you can extend the galanthus season to several months by planting cultivars or species that bloom earlier or later.
---