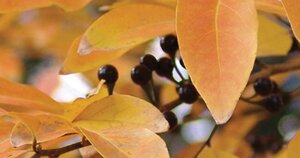 Courtesy of The Pennsylvania Horticultural Society
When you're choosing plants, it's always good to have the advice of someone else who has grown them -- particularly when it's a plant you're making an investment in, such as a shrub or tree. That's one big benefit of nonprofit groups that rigorously test various plants and give awards to those that are outstanding.
For 30 years, the Pennsylvania Horticultural Society has tested trees, shrubs, vines, and other woody plants to determine which thrive in the mid-Atlantic region -- from New York to Washington, D.C. Its Gold Medal Plants program has recognized more than 100 outstanding specimens during that time.
For 2009, five more plants have been added to the list: one tree, two shrubs, one ground cover, and one plant that can be a shrub or a tree, depending on where you grow it and how your prune it.
Here's a quick run-down of the winners, all of which prefer full sun but will tolerate partial sun and four of which are deer-resistant:
Gardeners know that good garden plants with true-blue flowers are hard to find. And that goes doubly for shrubs and trees. But Vitex agnus-castus 'Shoal Creek' (chaste tree) not only has excellent blue flower spikes but blooms all summer, has disease-resistant leaves, and attracts butterflies. Penn. Hort. says it's "highly deer-resistant" in the mid-Atlantic region (deer-resistance varies by region). It's for hardiness Zones 6 to 9.
---