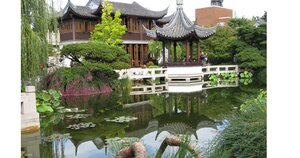 Photos by Judy Lowe/The Christian Science Monitor
Everyone who visits Portland, Ore., knows about its outstanding Japanese Garden -- one of the best in the United States. But fewer visitors have heard of the city's Classical Chinese Garden -- and that's a shame.
The Chinese Garden isn't nearly as large as the Japanese one, which makes it more of an intimate experience -- and definitely worth a trip. I was impressed.
I'm not expert enough to explain the true differences between traditional Japanese and Chinese gardens, but generally I tend to think of Japanese gardens as minimalist and understated but teeming in symbolism.
There's abundant symbolism in this Chinese garden -- which was designed as a miniaturization of nature -- but, as you'll see from the photos, the structures are much more ornate and elaborate than usually found in (what I, at least, think of as) a typical Japanese garden.
According to the docents, a classical Chinese garden contains five elements -- architecture, plants, stone, water, and poetry. Don't you love the idea of including poetry in the garden?
---