Seedlings in the greenhouse: How do they grow?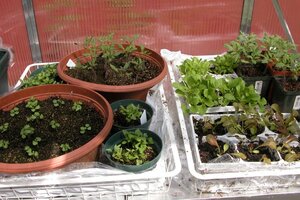 Alexandra Marks/The Christian Science Monitor
Starting a plant from seed is an extraordinarily satisfying experience. Although, besides a few second-grade attempts to grow daisies in a Dixie cup, it wasn't until last year that I came to understand the full majesty that can unfold from a tiny seed.
We had had our country house for several years and, as an almost-lifelong city dweller, I had taken up the habit of visiting the local nursery every spring to buy trays of very pretty flowering plants. I would then take them home, promptly put them into the garden, and wait anxiously for either a deer or the groundhog that lives down by the pond to come and eat them.
But then we went to Virginia to visit my Aunt Annie and Uncle Bill. He's a retired doctor who has turned a small mountain on my grandparent's farm into a natural garden that attracts wildlife.
They took us to Monticello to see Thomas Jefferson's extraordinary gardens. Entranced, I left the gift shop  loaded with seed packages of hollyhocks, sweet william, double columbine, English daisies, and rusty foxgloves.
However, the next spring, we put an addition on the house, so the seed packets sat. Then last spring, I found them and decided to experiment.
Back I went to the local nursery as spring dawned, but this time I bought seed starter kits. I opted for the Jiffy All in One Seed Starter Mini Greenhouse Dome & 25 Jiffy Peat Soil Pellets. It turned out, in fact, to be my first experience with a greenhouse – albeit, a rather small one.
---