The transplanted gardener: I can see the North Pole from my house
(Read article summary)
Yellow plants warm the garden in a cold climate.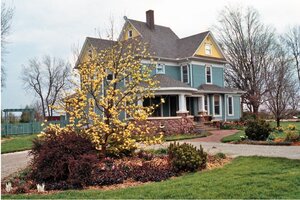 Photos courtesy Craig Summers Black
Winters in the heart of the heartland do not "heart" me.
I am a warm-blooded soul who hadn't shoveled snow in exactly a quarter of a century before I moved here.
I remember hauling furniture into our new Iowa abode when our neighbor (we had exactly one at the time) came over and posed a question: "Don't you have you a winter coat?"
Actually, no, I didn't, which was probably made abundantly clear by the fact that I was wearing jeans and a T-shirt … and it had been snowing for a half-hour.
His advice to this newbie: "Well, you better get you one. Because when the wind comes up in the winter, there ain't nothing between you and the North Pole 'cept that barbed-wire fence."
This is not my colorfully crafted attempt at dialogue vérité. Those are his exact words.
The first two winters were the hardest – especially since it went down to 28 below (-33 C) a few times. This was not in the manual. It says here that I live in USDA Zone 5, and Zone 5 is supposed to bottom out at -20 (-29 C). Ha. One day the high – the high, I'm telling you – was 14 below (-25C).
It was hard to believe that any plants of any kind could survive this kind of weather.
To ease my own pain, I decided to make sure to include two things in my new landscape:
1) Evergreens. Besides hardscaping, this gives structure to a winter garden. And it is a reassurance on a cold winter day that there actually is a garden out there.
2) Yellow. Yellow flowers, yellow foliage, anything bright and cheery (and, preferably, early) to announce the impending arrival of spring.
---