The Transplanted Gardener: The view from here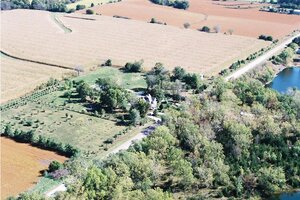 Photos courtesy of Craig Summers Black.
Yes, I live in Madison County – bridge country – home to rolling hills and busloads of tourists.
I left northern California, where Clint Eastwood was a local mayor, and fled those hordes of tourists who were unprepared for San Francisco's arctic blasts in July. At that time, the fairly dreadful penny novel was being filmed down the road on its way to becoming a fairly mediocre movie, and Clint and the tourists followed me to Iowa. Sigh …
Things are quieter now, finally. About the biggest doin's hereabouts are an annual bike ride that curves through our pastoral hillsides. No, Iowa is not all flat. Just my yard.
I'm surrounded, as you can see in the photo above, by cropland – alternately corn and beans, as the locals call soybeans. With nary a ripple or fold in the landscape, during winter the wind comes zooming through, scouring the ground of any snow cover.
Which makes it tough on my garden. Very tough. Large-leaved evergreens such as Japanese andromeda (Pieris japonica), rhododendron, and holly – all pretty much guaranteed (in theory) to survive this USDA Zone 5 region – usually turn up their toes about February.
---