The Transplanted Gardener: What's black and white and mulch all over?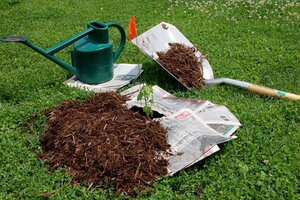 Photos courtesy of Craig Summers Black
After lo, these many years, I have sold off the menagerie. The llamas, the miniature fainting goats, even Lucy the miniature donkey – all gone.
And I am not a particularly popular guy in the household. "Dad, how could you?"
But last winter was one winter too many of having to go to the barn when it is 25 below outside and the 50 mph wind is scouring off my facial skin. Do you know how uncomfortable it feels when your nasal hairs freeze? Thus: No more.
So that I don't have to mow the entire pasture, and so that I can plant more stuff, and so that I can escape the disapproving stares I am receiving in the house, I am planting stands of trees and putting in a loopy biking/jogging path.
I planted 15 trees last week and 15 more over the weekend. Because the money to pay for these trees does not grow on them, I must resort to buying little teeny sprigs and waiting patiently for them to cast some appreciable shade.
In the meantime, the pasture grass can grow taller than the trees, so I have done a couple things to ensure  that (1) they will survive, and (2) I will not mow them down with the lawn tractor. (It's happened.)
Brightly colored construction flags (see photo at right, above) will direct my eye so that I can find them when they need watering and avoid them when the pasture needs mowing. And to cut down on the watering trips, I have surrounded each tree with a dollop of moisture-conserving mulch, which I buy by the truckload – again to save money.
Basically, I get a yard of mulch (which fills the bed of my midsize truck) for about the cost of eight bags at the big-box store.
---