The Rose Whisperer: Déjà vu all over again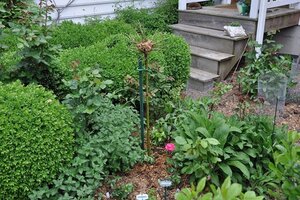 Photos courtesy of Lynn Hunt.
If baseball great Yogi Berra were a dedicated reader of The Rose Whisperer (and maybe he is!), he'd probably think he'd seen Photo No. 1 above before. And the quotable Mr. Berra would be exactly right.
I took the picture back on May 1 to accompany my first Whisperer posting. In that post, I wrote about the relationship between writing and gardening. I also offered some tips for rejuvenating tired soil and planting a new tree rose.
Soon, the tree rose was coming along very nicely. In fact, today it's covered with blooms.
But along the way, this little patch of garden took an unexpected turn. The tree rose was supposed to be the focal point -- the cherry on top of the ice cream sundae.  Instead, the plants around the Baby Blanket rose (see Photo No. 2) have at long last stolen the show.
Over the years I've tried to create a classic cottage garden with the look British gardeners call "a tidy mess." Things may look helter-skelter, but they're supposed to. To make it all work, you need plants that complement one another as partners and a little serendipity. More often than not, I've struck out.
---