Garlic can be ornamental as well as tasty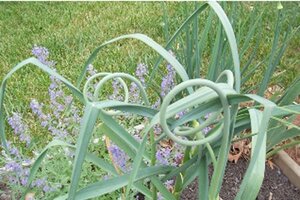 Photos courtesy of Donna Williamson.
In the old days, I used to separate garlic cloves purchased from the supermarket and plant them in my garden. I wasn't careful about where I planted them, not necessarily giving them the good drainage they needed year-round.
They never did very well. Then I made my first trip to Chanticleer Garden in Wayne, Pa. At that time, Chris Woods was director, and I was stunned by his vision and technique. I had never seen such a beautiful and skillfully designed garden. And he used garlic as an ornamental!
Chris put plants in delightful combinations or used them in interesting new ways. He developed a colchicum lawn with a magenta Adirondack chair for a fall display of that beautiful waterlily-like bulb that was breathtaking. He planted a gravel bed with butterfly weed (Asclepias tuberosa), winecups (Callirhoe involucrata), and Gladiolus 'Atom.'
So when he planted a garden with lavender 'Colchester White' centaurea, and a swirly-headed garlic, I knew I was in a new world of gardening. My friend Karen and I talked with Chris at length about his work at Chanticleer and at harvest time, he generously sent us some garlic.
Ever since, I have been growing what I think is the hard-neck 'Rocambole' garlic (in my mind it's the 'Chanticleer' garlic) in my garden and in the gardens of my willing design clients.
---