The Edible Explorer: godwottery or not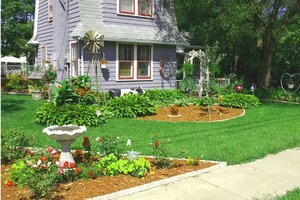 Photos courtesy of Doreen Howard.
Because my landscape brims with bulbs, flowering shrubs, annuals, and successive-blooming perennials that provide color all season, I tart up the vegetable and herb garden to match. Leftover annuals and godwottery migrate into beds of cucumbers, cabbages, tomatoes, and peppers.
I think it is godwottery, but that's up for debate.
Godwottery is defined as "a highly romantic, exaggeratedly elaborate garden usually composed of bizarrely incompatible plants and objects." Another definition of the word is "affected, archaic language," of which I am assuredly culpable.
Creeping lavender thyme hosts dollhouse park benches and tiny flower pots, windsocks flap from trellises, and scarecrows peek through cucumber vines in my edible garden. And, I admit to a dozen garden gnomes (gifts, I swear!) that inhabit a flowering shrub border. (See Photos 2 and 3 above.)
I thought my decorations qualified as godwottery until I started exploring city streets and rural roads across the Midwest.  Displays such as plaster Holsteins with Christmas wreaths around their necks, Pepto-Bismol-pink wishing wells, iron bedsteads packed with pansies, and truck tires sprouting purple coneflowers and goldenrod are everywhere! (See Photo No. 1 above.)
I'm obviously an amateur.
Decades spent in Texas taught me that Southerners are fond of the unusual and incompatible in their gardens.  Century-old homes with peeling paint surrounded by packed red dirt instead of lawn might have an old toilet that outlived its usefulness indoors in a place of honor near the porch. Packed with pink portulaca and tie-dye-blue morning glories, the porcelain throne has the advantage of built-in drainage.
---