Elephants in the garden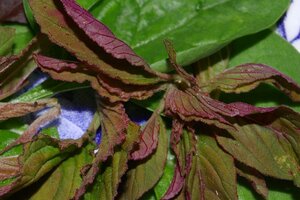 Photos courtesy of Doreen Howard.
Burgundy elephants cast shadows on ripening Big Zac tomatoes and another one is crowding the blueberries, as my garden plods towards autumn. Despite a barking dog and fencing to keep out local critters like wild turkeys, bunnies, coons and fox, the elephants remain.
No, I'm not talking about the gigantic equivalent of plastic pink flamingos. These elephants are alive and growing.  They're Elephant Head amaranth (Amarantus gangeticus).
For the past 25 years, I've planted the heirloom that German immigrants brought to this country in the 1800s. First, it was because of the flower's striking beauty. Then I discovered that the plant's leaves and seeds were edible.
The word amaranth means "everlasting" in Greek, and its tiny seeds have survived for eons, feeding ancient civilizations in South America and Mexico. Today, amaranth flour is popular as a gluten-free, nutritious substitute for wheat flour.
Elephant Head amaranth isn't a true grain, but a relative of lamb's quarter and the garden flower cockscomb. Each plant produces 40,000 to 60,000 tiny seeds (see Photo 2 above) that are ground into flour. I use my electric coffee mill and grind enough to use fresh.
New growth tips of plants are tasty, too, for salads or lightly steamed. The greens taste like spinach and are also packed with nutrients.
Plants are easy to grow from seed. Just scratch them into the ground and keep moist until the seeds sprout. Most years, I don't have to sow, as flowers from the previous year drop plenty of seeds. In fact, the resulting tiny red seedlings, which make Elephant Head easily recognizable, are almost like weeds. They pop up everywhere.
---