Water and how we use it in the garden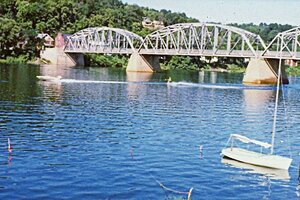 Photo courtesy of Mary-Kate Mackey.
Welcome to "On Water," which will be a new part of the Diggin' It garden blog. Here's the back story.
Water is the heart of any civilization, any society, and, of course, any garden. I believe ancient Rome's ability to acculturate those they conquered was less about soldiers and more about water engineering skills — think massive aqueducts, luxurious hot baths, and yes, flush toilets.
Because water is so basic to our gardens, I want to write about how we use it — from watering techniques to DIY construction, from water feature profiles to plant lists for specific purposes — plants that can thrive in water or enhance the garden around water features, and also plants that need little supplemental watering.
In general, water fascinates me. Perhaps it's because a river runs through my family's history.
I grew up in Lock Haven, Pa., where my grandmother declared that we were all "river rats" because five generations of us had lived in the same house on the banks of the Susquehanna River. The wild part of our garden — the part kids always prefer — ran right down to the water's edge.
The Susquehanna gave me my first awareness of the rhythms and beauty of water in nature. From earliest childhood I knew the golden mists that hung over the quiet surface on early mornings, and the occasional floods that sent the river cascading down our cellar steps.
On the riverbank I learned my first lessons on ecology and pollution. The water was too clear, with very little vegetation or fish, because acidic upstream seepage from coal mines killed everything. Also, there was that sewage problem — the Susquehanna of the 1950s functioned as the repository for every small town's effluent along its banks.
---