Got too much lawn?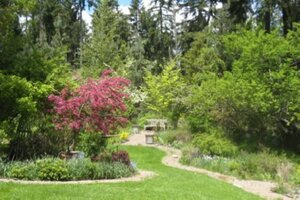 Mary-Kate Mackey
Lawns are the No. 1 user of water in the garden. There's a big movement to tear out those thirsty, high-maintenance, gas guzzling, chemical-sucking parts of the landscape. But wait — folks love their lawns, yes, we do. So here's a guide to know when to just say no to a lawn.
You know you got too much lawn when: The only footsteps it receives are the ones behind a mower.
Ask yourself: What does my lawn do? If it's a play place for kids or adults — or in our case, a border collie with a Frisbee fetish  — you need it. No other natural surface will suffice.
However, newer easy-care grasses are being developed all the time, so consider overseeding this fall with a new turf grass suitable for your part of the country. (Your local extension office has the latest info.) Or, depending on where you live, consider a whole new lawn grass, such as deeply-rooted native buffalo grass.
If your lawn simply functions as a design element, giving you that green and calming respite between the glories of your flowering borders, try an eco-lawn mix or low-growing plants that take some footsteps, but much less water, such as tiny-leafed thyme.
You know you got too much lawn when: Your chemical bill at the nursery is higher than your kid's college tuition.
Let's face it — the goal of a perfect green expanse was a triumph of advertising. According to Virginia Scott Jenkins' book "The Lawn — A History of an American Obsession," left over from World War II. You can't make perfection without chemicals, as the Sunset headquarters in Menlo Park, Calif., proved when they converted to all organic. Their Thomas Church-designed bent-grass lawn doesn't look quite so buff.
---