Deep water thoughts when the well stops working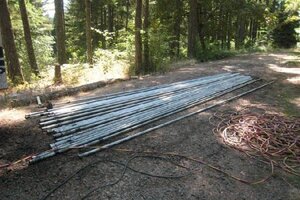 Photo courtesy of Mary-Kate Mackey
Just as I started writing "On Water" for this blog, my well pump produced a terrible clanking and cranking and shut itself off after running for 30 seconds at a time.  Death throes — that's what Roger, the well man, declares.
Gap-toothed and a little grim, Roger's standing next to the open door of our pump house. He outlines further possible disasters. We could be facing pitted pipes that will need to be replaced, or not-up-to-standard wiring — or, worst of all, a failed well. We won't know until the pump is pulled.
The roof of the pump house — originally designed to be removable for this contingency — has been pushed aside so the crane that Roger operates from the back of his truck can hoist up the long sections of pipe, one by one, from the 500-foot shaft that is our well.
Young Dustin does most of the physical labor, unscrewing and laying each pipe section carefully on the gravel driveway so it can be returned in the exact order it came out.
I can feel the pipe extraction as if it were my own body. I had no idea I identified so closely with this source I've been watching over for the 17 years we've lived on our country acres outside of Eugene, Ore.
Strategies for using less
We've always lived with low-flow everything. Restrictors on showers and faucets, the newest low-water washer — there's only one hose bib on the whole house that delivers at the maximum, and that's for fire protection.
However, I was surprised to discover that our toilets are not as water-saving as they could be. When we had to refill using a five-gallon bucket with water scooped out of the hot tub — our Northwestern winter pleasure — it turns out it's two gallons per flush. That was low-flow 17 years ago, but not now.
When we bought the house, we downsized from the average toilet flush of 7 gallons. Whew. However, now technology has improved. Some dual-flushes use less than a gallon. Save water in the bathroom — more for the garden, where it can at least percolate down and return to the groundwater.
---