How to overwinter tropical fruits and other tender plants
(Read article summary)
Bring your banana trees and tropical plants indoors for winter instead of letting them be killed by frost.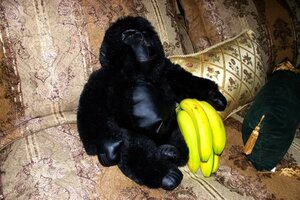 Photo courtesy of Doreen Howard.
I'll admit it. I've been sleeping with bananas for the past 10 years.
They're considerate roommates that conjure visions of warm breezes, fruity drinks with paper parasols, and white beaches – despite the lead-gray skies and endless ice and snow six months out of the year here in the upper Midwest.
Broad banana leaves curtain my bedroom window all winter and frame the snow fields beyond the glass. Every few weeks, another huge leaf unfurls and pushes the towering plant that much closer to fruiting. And, bananas don't snore, unlike other bed partners.
These plants, normally found in along the white beaches of San Diego and near the sultry Gulf of Mexico – places where I spent much of my life – bear fruit and huge, striking flowers even in cold climates if carried over from year to year.
Who wouldn't want stalks of red bananas, sweet-tart kumquats, and luscious figs on their patio? Their musky floral aromas and succulent fruits set the mood for gracious outdoor living.
I've learned from experience there are three ways to overwinter any tender plant.
---