Roses and butterflies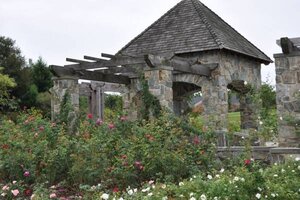 Photo courtesy of Lynn Hunt
Recently I had the honor of judging the Colonial District Rose Show in Richmond, Va. As an accredited horticultural judge for the American Rose Society, I get to eye the best blooms grown by the best exhibitors in the mid-Atlantic.
This show was really special because among the entries was the finest example of the hybrid tea rose Veteran's Honor I have ever seen. And that sighting was just the beginning of a day full of visual treats.
The show was held at the Lewis Ginter Botanical Garden in Richmond, a historic property (once owned by Patrick Henry) that features over 50 acres of gorgeous gardens and 9,000 types of plants. More than a dozen themed gardens include a healing garden, sunken garden, a Victorian garden, and an interactive children's garden.
There's also a classical domed conservatory,  Garden Café, tearoom, and the most enticing gift shop I've visited.
The rose garden (first photo above) is a recent addition, which I mentioned in a March article about Kordes Fairy Tale roses.  Although relatively new, this garden is already a stunner with more than 80 varieties and 1,800 roses selected for repeat performance, fragrance, and disease resistance.
The visitors I saw were literally spoiled for choice when it came to finding the most sweetly scented blooms in the display.
Although it was hard to tear myself away from the roses, I soon made a beeline for the "Butterflies Live!" exhibit that continues through Oct. 11. Dozens of exotic tropicals fluttered around me and posed for photos on nectar plants and in the bowls of fruit set out for their dining pleasure.
---