Putting the vegetable garden to bed
(Read article summary)
It's time for the final garden chores of the season. Here's what you need to do.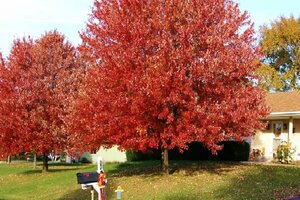 Photo courtesy of Doreen Howard
 Ice pellets and snowflakes smack me in the face as I scurry to put my garden to bed for the winter.  Early this morning, the first hard freeze of the season arrived, and by noon it was snowing.
Yesterday, I picked the last Asian pears (see Photo 2 above) and admired the first burgundy leaves on the 'October Glory' maples (see Photo 1 above) in the front yard. Because the freezer was full of stuffed peppers and the vegetable crisper jammed with red, yellow, purple, and chocolate bell peppers, I didn't pick what remained on the plants.  I should have. (See Photo 3 above.)
The freeze was early; Oct. 15 is the average freeze date, but the snow is way too early! Considering we didn't have a summer, just continuous rain and temperatures more normal for April than August, this snow is scary.
Does it portend another Ice Age for my region? That's why I'm rushing to winterize, just in case.
Putting edibles to bed for the winter is much like tucking in a child for a long sleep. Make sure everything has a drink of water and is covered. Fairy tales are optional!
With that done, your fruit trees, berries, grapes, and vegetable beds will be in good shape to survive mountains of snow, sub-zero temperatures, and those sudden thaws that melt a month's snow pack overnight.
•    Remove all dead vegetation from beds. Pull any weeds and apply three to four inches of mulch. Fallen leaves are a perfect mulch, as they will rot into leaf mold during the winter to build the soil. For maximum insulating power, run over the leaves with your lawn mower to shred them. (See below for more helpful information about choosing mulch materials.)
•    Wait two or three freezes to harvest Brussels sprouts. The cold sweetens them. In mild winter areas, you can carry over plants to spring by harvesting the lower sprouts. Plants will produce more sprouts further up the stalk. In cold climates like mine, pull up plants if the ground isn't frozen.
•    Plant a winter spinach crop. Amend a portion of stripped soil with lime. Bring the pH up to about 7.5, which is optimum for spinach. About a half cup of lime scratched into a 4-by-4-foot bed will do it. Then sow spinach seeds. Most seeds will sprout before heavy snows arrive, but even if they don't, the seeds will be the first ones up in spring. Tiny spinach plants survive under the snow blanket and even put on some size during warmer days
---