A waterfall that really rocks
(Read article summary)
All rocks aren't the same. The ones installed with a waterfall in an Oregon yard make it a special place.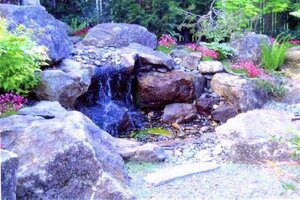 Photo courtesy of Michael McQuiggin
This is the first in an occasional series of stories that will profile people and the water features they love. In Portland, Ore., it took the pressure of a wicked deadline, the good will of neighboring families, and a break in the weather to get this waterfall into the ground.
With a storm threatening, landscape contractor Michael McQuiggin stood in the backyard of the Southwest Portland home, and waved his arms again. High overhead, outlined against a cloudy winter sky, a five-foot-diameter boulder dangled from a long thick cable.
On the hillside above, a large crane, engines growling, shifted the rock to the left, and slowly lowered the enormous load to the place where the Michael was pointing. He gestured one way, and then another. The crane operator responded to the adjustments like a long-distance dancer.
Finally, the boulder settled on a protective pad of felted landscape fabric. It fitted neatly in a sculpted hole carved into the hill swathed with sheets of pond liner.
Michael stepped back. He narrowed his eyes. Did it look right? No.
With a wave of his arm, he signaled the crane, which obligingly rehoisted the rock a foot off the ground. Two workers rotated it a quarter of a turn and Michael motioned for it to be set back down. He checked again.
"OK," he shouted up to a crew member standing among the 40 tons of rock on the hillside. "Send me a squat one."
Michael's company, McQuiggin Inc. uses as its motto, "The difficult we can do — the impossible takes a little longer."
This installation was almost the impossible and time was running out.
"In typical fashion," homeowner Dana Upshaw now says with a laugh, "we waited until the last minute."
---