Variegated forsythia in the fall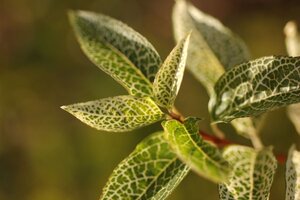 Photo courtesy of Craig Summers Black.
I've never before gardened anywhere cold enough for forsythia. (Can you tell I devote far too much time trying to dream up advantages to this nasty climate?)
My Iowa-gal wife has regaled me with stories about growing up with them, her dad's  love of them, harbingers of spring etc., and any interest she has in horticulture I try to foster. So I knew I our weedy little acreage would have some forsythias in its future.
But …
Most of the year these shrubs really look kind of rangy – humdrum bordering on ratty. And in the spring, those klieg-light yellow flowers look – depending on my mood at the time – either perky or alarmingly strident.
Then I discovered variegated forsythias. Like almost every other variegated plant, they are a good thing. These cultivars are somewhat shy springtime bloomers, so their flowers don't get all in-your-face garish.
Then – Blackie's 4F Garden Dictum: Flowers fade but foliage is forever.
The bushes hold your interest all growing season, with variegations ranging from subtle to intense. One variety – Golden Times (see photo at right) – has splashes of yellow so enthusiastic that the tips of some branches have leaves completely awash in it.
The stripes in Fiesta foliage (see Photo No. 2 above) almost glow.
And the more-mottled-than-striped Variegata  at this very moment seems to be seasonally confused; half of the foliage has already turned its fall color and, springlike, it is actually blooming. Again!
But my favorite is Kumson (Forsythia viridissima koreana) – see Photo No. 1 above – which has veining reminiscent of a cathedral's stained-glass window.
---