Onions of great flavor and questionable character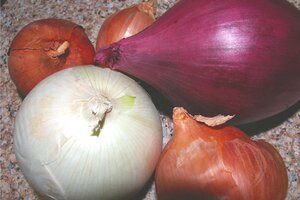 Photo courtesy of Doreen Howard
Italian Red Torpedo, Yellow Globe, and Spanish Sweet White onions harvested from the garden a couple weeks ago are finally dry enough to store in mesh bags for the winter.
I grow a variety of onions, because they have different flavors. They keep for at least six months if placed in mesh bags, which I fashion from bird netting. Cool, dry air that's above freezing provides the perfect environment for storage.
I put them in the basement, but if your garage is heated or you live in a warmer climate, use it.
As I sort the globes, my old friend Dr. Jerry Parsons and his onion laws come to mind. The retired Texas A&M University horticulture professor was fascinated with onerous laws that malign the humble onion. Some regulations are more 100 years old and still enforced.
Jerry also clued me in to the belief in aphrodisiac properties of onions, cooked or raw. Priests in ancient Egypt were banned from consuming onions for fear they would break their vows of celibacy. And the French may still bring onion soup to newlyweds the morning after the ceremony to renew their ardor, according to Jerry. But then he's prone to tall Texas tales.
Here are some of my favorite onion lawsthat  he collected. Even if most have been repealed, they still are interesting. To read them all, click here.
---