Prepare your waterfall, fish pool, and water pumps for winter
(Read article summary)
It's time to winterize your water garden, waterfalls, bird baths, and water pumps.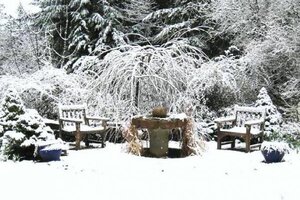 Photo courtesy of Mary-Kate Mackey.
Unless you're living in USDA Hardiness Zone 10 or warmer — in which case you might be firing up the patio heater for those cooler evenings — right now you're getting ready for winter. The weather across the country has already thrown some unanticipated winter curve balls, so I'm a little late changing over my water features into frost mode.
To pump or not to pump
This is the question that rules all my winterizing decisions. Waterfalls must be shut off. In severe cold, the falls would freeze, and create ice dams. If water is still continually recirculating, it gets diverted away from the stream by the buildup of ice. This lowers the overall amount of water in the system.
Even with careful monitoring and breaking ice in the stream, as the water freezes, less is available for the whole pond, so additional water has to be added — problematic in freezing temperatures.
I did know one couple, Angie and Mike Dickinson in Redmond, Wash., who were so in love with the sight and sounds of their triple waterfalls and pool on the hillside behind their house — it could be seen from every window on that side of their home — they hauled five-gallon buckets of water out to meet the needs of the system during a prolonged cold snap.
Of course, that was in the Pacific Northwest, where it's unusual to have temperatures in the 20s F. (-6 to 2 C) and for more than a week at a time.
In colder climes [pdf], if water and fish are to remain in the pool, the pump can be placed two feet down — there's calm water below the circulating water where the fish will be hibernating. The action of the pump can keep an open hole in the ice.
---