A befuddled forsythia bush blooms in three seasons
(Read article summary)
A forsythia bush is confused about what season it is – fall, spring, or summer.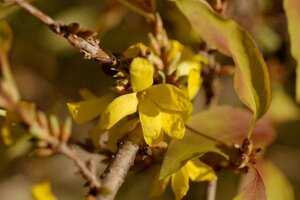 Photo courtesy of Craig Summers Black.
One of my forsythias is very confused.
No, I don't mean that this variegated shrub cannot determine if it is green with yellow blotches or if it is yellow with green blotches. My Forsythia x intermedia Variegata cannot tell what season it is.
Despite some hard freezes and two inches of snow, much of the foliage is still at its peak, as subtly twin-toned as that is. It's summer!
Half of the leaves, however, are turning shades of red, auburn, cream and burgundy, all whirled together. It's fall!
And to further the head-scratching, this delusional plant is actually blooming. Really. It's spring again!
So there you have it – a forsythia with two colors and three seasons.
An aside: Remember my compendium about variegated forsythias?
Well, Golden Times also does something a trifle quirky. It has babies.
Its lower branches droop so low that some rest on the ground – and then air-layers themselves. The branches take root, and after awhile you can just snip this pup from the mother plant and put it anywhere else you dang well please.
Besides the original plant, I have a few others dotting my acreage to brighten up mixed borders, and I have also started a Golden Times hedge.
So I guess my original purchase price was actually a hedge fund.
What else I'm into this week: The Foo Fighters. No, not these Foo Fighters. These Foo Fighters. They've finally released a greatest hits comp.
---