Forest lily, a Victorian favorite, makes a comeback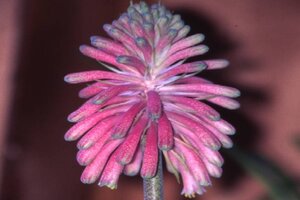 Photo courtesy of Brent and Becky Bulbs.
Invariably, at one spring flowers show or another, I come across a container of spectacularly grown Veltheimia bracteata (forest lily, winter red hot poker, Cape lily) in lavish bloom. And just like that, serious lust for the plant ensues.
But by then – early spring – it is too late to purchase and plant the bulbs, for they are sold only in the fall, similar to amaryllis bulbs.
And, fickle gardener that I am, I catch sight of other plants, and promptly forget about the forest lily – till the following year's series of  spring flower shows, whereupon the lust cycle starts all over again.
This fall, however, things were different.  I remembered!  So yesterday, when I potted up the first of the amaryllis bulbs, I also potted three Veltheimias.
For those unfamiliar with the plant, Veltheimia bracteata is quite the stately fashion plate.
Starting in late winter, the tight clusters of tubular flowers (similar to that of Kniphofia), rise on one-foot tall mottled stems above the three-inch wide and one-foot long, spear-shaped, glossy deep-green, undulating foliage.
The waxy, green-tipped blooms – held upright when in bud, but pendulous when open -- hold their color for up to a month.  The blossoms are followed by papery capsules that ripen in mid-summer.
---