House plants for black thumbs and cave dwellers
(Read article summary)
Even if you have a black thumb or your house has so little light you may as well dwell in a cave, there are plants that will be successful for you.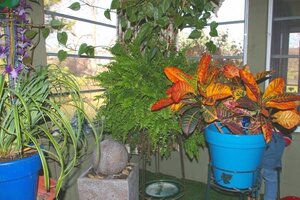 Photo courtesy of Doreen Howard.
I've killed more than my share of houseplants.
One of the great paradoxes of life is that accomplished gardeners who grow prize-winning roses and gigantic tomatoes frequently turn into grim reapers when it comes to ficus and philodendron indoors.
Gardeners are used to supplying plenty of water and nutrients to their outdoor plants and never have to worry about enough light. Indoors, daily watering and large doses of fertilizer spell disaster. And lack of strong light dooms the healthiest of orchids or staghorn ferns.
Learning the delicate balance of providing just enough water and nutrients and finding the right light in your home for different plants comes with practice. Yes, you'll kill a few, but you'll learn. I did.
Start with a healthy plant. You'd be surprised how much misery you can bring home at a premium price. Some houseplants are destined to die because they have incurable problems.  Some, even, infect other plants.
Pass up plants with foliage that is yellowed, limp, or has soft, discolored spots. All are indications of disease or root damage.
Also, leave behind plants with tiny dots on their leaf undersides, which indicate insect infestations.
Avoid plants that look like they have been pruned. Store personnel may have cut off diseased or damaged parts.
If possible, slip the plant out of its pot to inspect the roots. If they're dark brown, black, or mushy, the plant has been overwatered and probably will die. Look for whitish, plump, firm roots.
Seek plants with new shoots, buds, and leaves. This is a sign of active growth and health. Vivid hues are signs of health on colored foliage plants. Pick the smaller plant over the lanky, overgrown one, too.
---