Garden 'siteseeing' at Thanksgiving
(Read article summary)
Thanksgiving is a time when gardeners are grateful for natural bounty and beauty.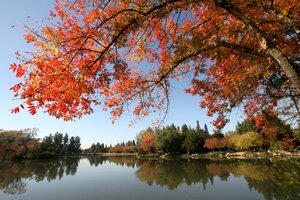 John Walker/The Fresno Bee/NEWSCOM
Sometimes Diggin' It likes to go "visiting" via the Web to see what's happening in other gardens and with other gardeners -- thus the name "siteseeing."
It seems especially appropriate at this time of year, when so many people are heading out to airports, train stations, and highways to visit family and friends.
Here are five blog posts that are just perfect for this time of year:
– The Garden Lady looks out from her own garden to give thanks for all those who have created beautiful  public gardens and landscapes that we all can enjoy. "I am grateful for all those professional gardeners, landscapers and garden workers as well as all the volunteers who help in so many public or private gardens or even create their own gardens for people to see and visit," she says.
– Naturalist Matt Miller of the Nature Conservancy reflects on wild turkeys,  which, he notes, "roam forests, wood lots, farm fields and prairies from Maine to Florida, from New Jersey to California." They're a real conservation success story, since in the early 1900s, the birds' numbers had dwindled to 30,000 nationwide.
– A Wisconsin gardener and dietitian looks back at this year's harvest of fruits and vegetables – from apples to tomatoes – with gratitude. "Those of us who grow our own truly appreciate our abundance. We feel secure knowing we have more than enough food to sustain us through the winter," she says.
---