Warm, waterproof garden gloves – really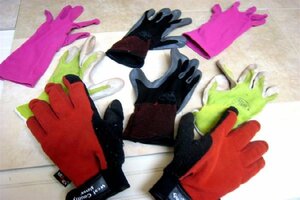 Photo courtesy of Mary-Kate Mackey.
It's that time of year when Oregon deserves its rainy reputation. I live in a part of the world that receives approximately 45 inches of rain, and most of it comes barreling in off the Pacific Ocean in a series of winter storms.
In between the downpours, we experience what are locally termed "sun breaks." But even then, the air is moist (you could say dank), all plant material is saturated, and daytime temperature highs can hover in the low 40s.
There's plenty to do here in terms of winter gardening, from late fall-early spring pruning to incessant weeding, but working outdoors now means cold cold hands.
For the rest of you who live below Zone 8, I'm describing fall and spring conditions. So at the holiday season, when gardeners can lay out broad hints for gift ideas from family and friends, or are looking for just the right present for a fellow gardener, I would like to recommend my favorite cold- and/or wet-weather gloves.
The following is my unsolicited and unpaid-for opinion.
The great glove search
Over the years, I've gotten quite a glove collection, because as they get soaked — and convey the cold to my skin — I change them out for a new pair. On winter days, I can go through as many as six pairs.
Some, like my Foxgloves are comfortable but strictly for dry-weather gardening. Others, like my nitrile-coated Atlas gloves resist water — at least until the backs get wet — but are thin protection against the cold. And my thicker Bionic gloves still allow water to seep in.
---