One person's garden thug is another's favorite plant
(Read article summary)
Garden thugs – plants that are invasive – in one part of the country may not be in another.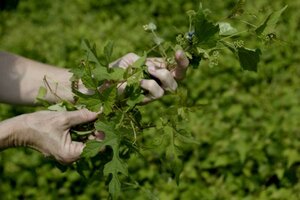 NEWSCOM
Every once in a while I see a book or magazine extol the virtues of a plant that I have come to despise and can't understand how they can be so irresponsible.
– Take Lamiastrum galeobdolon 'Herman's Pride'. I've seen articles in national gardening magazines about how wonderful this plant is – how it makes a nice clump – how the shiny leaves provide a bright spot. It took over my neighbor's woods … wall-to-wall! That was here in Virginia. Perhaps in Spokane or Calgary or Montpelier it forms a nice shiny clump.
– Take Ampelopsis brevipedunculata – the beautiful porcelain berry. I see it in nurseries, catalogs, books on lovely vines, and magazines. The birds like those beautiful turquoise berries, too, and once they go through the digestive track of the birds, they are distributed far and wide. The tough little bayberry trees on the shore of the Atlantic in Virginia are now covered (and struggling) under the drapery of these light-robbing vines that provide yet more berries for more birds to poop over the land.
– Miscanthus sinensis is no longer part of my planting palette. In Northern states with earlier autumn frosts, the seed does not ripen and spread. Here in Virginia, you can see clumps of miscanthus along the road, behind the guard rails, and in other unintended spaces. It seems to like damp areas when it germinates so it may also be that the plant behaves in the western states.
On a trip to North Carolina 25 years ago, I noticed that Oregon grape holly (Mahonia spp.) had naturalized in the wooded areas. In my part of Virginia, it hasn't done that yet but I can see the possibilities ahead. We already see Nandina domestica seeding around lightly. And, of course, butterfly bushes are seeding, but not too heavily.
---