The generosity of gardeners, comrades of the spade
(Read article summary)
A gardener finds that her favorite activity is filled with generous acts of communication and sharing.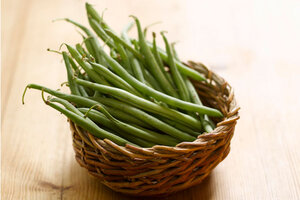 NEWSCOM
Two decades ago, when I worked as a magazine editor, I received a telephone call from George B. Park Jr. That's the George Park, as in Park Seeds. The call reminded me of what a generous group gardeners are, a characteristic that seems worth pointing out in this season of giving.
I've always had good success buying seeds and plants through the mail. The selection and service are first-rate, and the baker's dozen is commonplace. This time, however, I had written Park Seed and a dozen other companies not to place orders but to ask questions about bush beans. I was unknown to these people, yet their responses were as hospitable as if I were the prodigal daughter, finally found and fully forgiven.
Rob Johnson of Johnny's Selected Seeds sent me a handwritten letter. He didn't carry any of the beans I was growing, yet he provided information about five of the six varieties. Harris Seeds and Burpee replied, detailing the varieties in their inventories and even gave sources for the types they didn't sell. Vesey's Seeds regretted that they sold none of my varieties, though they had trialed two of them in their Prince Edward Island garden. If I had more questions, I should write, they said. "We are always willing to help you out as much as we can."
Garden generosity isn't new, of course. In 1735, the Englishman Peter Collinson wrote his friend John Custis, the Virginian with whom he exchanged seeds and plants: "I think there is no Greater pleasure than to be Communicative and oblige others...Wee Brothers of the Spade find it very necessary to share. . . ."
Wee Sisters do, too.
---