A bird-friendly garden needs good shrubs
(Read article summary)
When you want birds in your bushes, make sure you choose the right shrubs.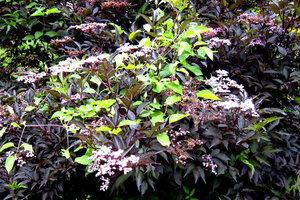 Courtesy of Mary-Kate Mackey
If you have water in your backyard — anything from a birdbath to a lake — you've sent a shout out to the birds. Water and birds are linked, so make your garden as bird-friendly as possible. And shrubs are the friendliest of plants.
In spite of the high-laugh value in Monty Python's Spamalot — sending knights on a quest for shrubbery — the importance of this evergreen or deciduous woody vegetation is no joke. Shrubs provide birds with shelter, food, and protection from predators. They also add a needed layer between tall trees and shorter flowers. The payoff for you is low-maintenance, plus the pleasure of foliage, flowers and berries throughout the seasons.
So I invite you to start your own shrub quest with a winter planning list. Here's a favorite few I grow in my Oregon garden:
Practical and beautiful elderberries
It is said that during the Middle Ages in Europe, folks tipped their hats when they passed an elderberry bush, because it was the most useful of all plants. Back then, besides the edible flowers and berries, a fish-stunning poison was extracted from the elderberry — much handier than a fishing rod when you're hungry — as well as important medical remedies. And the hollow stems made terrific flutes.
---