Plants I can't live without, part 1
(Read article summary)
Here are three plants that a Midwest gardener never wants to be without.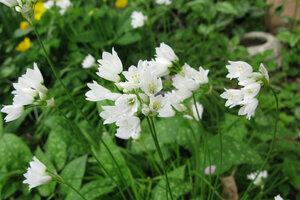 Photo courtesy of Betty Earl
Although it has barely started, I already feel that this is a winter that's overstayed its welcome!
Here in the Midwest, as in other parts of the country, we've had more than our fair share of ice storms, strong winds, bitter cold, and periods of seemingly unending snow.
And as a gardener, typically an outdoor person currently stranded in an indoor world, I feel a certain indignation at my captivity.
Still, as I reflect upon the successes and failures of the past season, I find that there are a handful of jewels in my garden – some familiar plants as well as plants not so well known – that speak to my soul.
Undoubtedly, I will find new favorites, but at this moment at least, these are the plants which I just can't live without.
What unites them is that they have all, in one way or another captivated my soul with their alluring beauty, their evocative fragrance, their silken frailty or their brawny robustness. Some are widely available; others, harder to find. But, should you succumb to their seductive charms, as I have, I hope you will also find them as irresistible as I do.
– Glaucidium palmatum (Japanese wood poppy)
One of the stars of the early spring garden, this perennial treasure from the cool forests in the mountains of Japan is one of the truly great plants of the woodland garden. A slow-growing, mound-forming plant, Glausidium palmatum displays its large, silky lilac-pink flowers, measuring up to three inches across, above large, veined, and crinkled maplelike leaves.
The delicate, solitary blossoms, opening in late May or early June, last approximately three weeks and are the perfect foil to the handsome spring green, softly textured leaves. Flowers emerge almost as soon as the foliage comes up in early spring. A mature clump, growing to a height of 2 feet, is a breathtaking sight to behold.
---