Annuals and perennials that attract birds to your yard
(Read article summary)
Choosing your perennial and annual flowers wisely will keep birds coming back for more.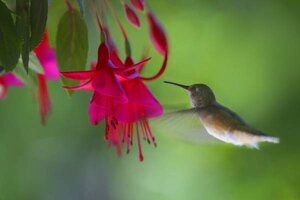 NEWSCOM
A water feature of any size attracts birds to your garden. But whether or not your avian visitors stick around depends on what plants you choose to grow by the water. In other posts [see list at the end] I've talked about the benefits of bird-friendly native plants, as well as trees and shrubs that offer shelter and food.
Today let's look at perennials (and a couple of annuals) you can add to your spring plant shopping list. Perennials return year after year. Their flower heads give a continuing supply of nectar and seeds that will keep your birds coming back for more.
Neatness doesn't count
Many flowering plants put on a great show in spring and summer. But the late summer and early fall blooms provide extra nourishment for birds that need to stock up for migration or cold winters close to home. So plan on having plenty of blossoms toward the end of the season.
Control your desire for tidiness — easier to do anyway after a full summer of gardening — and allow the flowers to go to seed. Don't worry about self-seeders — the progeny really are a gardener's bonus plants. Unwanted extras can be removed with a quick swipe of a hand hoe — less time than it takes to cut off the fading flowers. And the birds will thank you for putting your clippers away early.
---