Seeing water in the garden as Monet did
(Read article summary)
A trip to France to visit Monet's waterlily paintings reveals the reflective power of water in the garden.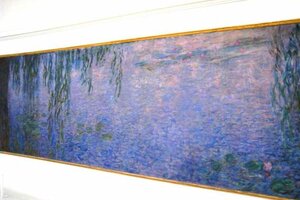 Courtesy of Mary-Kate Mackey
Thoughts on water and gardening are never far from my mind, even when I'm traveling in winter. One of the highlights of my recent three-week visit to Paris was a tour of the Orangerie Museum, specifically the two rooms that feature Claude Monet's enormous wall-long paintings of waterlilies, Nymphaea.
The Orangerie itself was originally built for horticulture — designed in 1852 as winter storage for the Tuileries Gardens' citrus trees.
I stood in an interminable line that snaked into the gardens from the front door. Note to travelers — museums in Paris during the December holidays are crowded, same as in summer — but the folks in line are Europeans, not Americans.
I debated whether the wait was worth it — the movement forward was infinitesimal. After all, I'd seen other waterlily paintings. Monet made more than 40 on the same subject, his water gardens at Giverny. I'd seen Giverny and even gardens based on Giverny. What was I doing, standing in the bitter cold aftermath of an unusual Paris snowstorm?
But I waited. Every other time I'd been in Paris, the Orangerie had been closed and under construction for a remodel that would allow these eight paintings to be seen as Monet intended — washed in natural overhead illumination from skylights.
Finally, I made it into the oval rooms, shaped in the figure of a lemniscate, that form representing infinity. The curving walls are lined with Monet's familiar subjects. But these last gigantic paintings, produced at the end of his life when he was going blind, are different from any of the other waterlily paintings I knew.
---