Winners of our Flickr garden-photo contest
(Read article summary)
A trio of great fruit photos win the Monitor's photo contest on Flickr.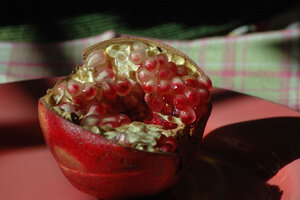 Photo courtesy of Carolyn Hopper
The Monitor's gardening section has had several photo contests running on our Flickr group page. Today we'll announce the three winners of the fruit photos competition. Then, as soon as we've heard back from the winners, we'll show you the top three photos in the "What does your winter look like" contest.
The winners among the fruit photos were chosen by Joanne Ciccarello, the Monitor's photo editor.
First place went to Carolyn Hopper for a pomegranate photo titled "Remember Persephone?" [See Photo No. 1, above.] It definitely looks good enough to eat, doesn't it?
Carolyn says: "My husband Dan loves pomegranates. One morning as he was eating one at breakfast I noticed how the sun was playing on all the surfaces
and had to take a picture on a colorful plate that I love. The story of the pomegranate makes it an interesting fruit to get to know and they are a tasty treat."
Her prize is "P. Allen Smith's Container Gardens Deck: 50 Recipes for Year-Round Gardening" (Potter Style). It's a packet of 50 cards that contain easy-to-follow directions for container gardens of all types.
---