The top easy-care roses
(Read article summary)
The New York Botanical Garden names its top roses for easy care and disease resistance.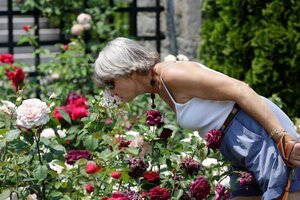 Kathy Willens/AP
For many years the Queen of Flowers has been labeled as one of the most chemically dependent plants in the garden. And to be honest, a good number of roses are fussy and high maintenance.
That's because over time, in the pursuit of what was hoped to be a more appealing bloom, disease resistance was bred out of many varieties. And casual gardeners found them too frustrating or time-consuming to bother with.
Now two developments are changing all that. First, the introduction of new varieties that bloom happily throughout the season without the need for constant attention. And secondly, the movement to curtail chemical spraying in both private and public gardens.
Peter Kukielski, curator of the Peggy Rockefeller Rose Garden at the New York Botanical Garden, had to rethink his plans for 3,800-plus bushes after a no-spray rule was implemented there.
When I first interviewed him, the staff was observing a large group of newly planted roses selected for hardiness and disease resistance. He was immediately impressed with the line of Kordes Fairy Tale roses.
Now almost three years later, 845 roses have been evaluated for performance and beauty. And after receiving countless requests to name which roses he considers the best of the best, Peter has listed the garden's Top 100 Performers.
---